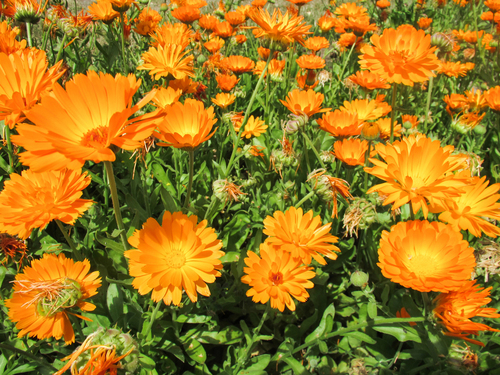 Herbs and Skin Health
Many herbs have dramatic therapeutic benefits for your skin. They could not only successfully tackle your skin issues but also boost the cellular firmness as well as skin health. The following highlight some of them
Calendula
It could improve dry skin. Its oil-soluble compound could make wonder for your skin. Also, Calendula holds antimicrobial, anti-inflammatory, and antiviral properties. It could heal inflammation, psoriasis, rashes, dermatitis, varicose veins, wart, stretch marks, and age spots.
Chamomile
It contains alpha-bisabolol and is naturally anti-inflammatory. Chamomile has the power to reduce skin redness, itchiness, and swelling. It could effectively heal the patches of redness, itching, flaking, and irritating on your cheek caused by sunburn.
Aloe Vera
It is well known as the Plant of Immortality thanks to its numerous health benefits for the skin.
Aloe Vera not only holds the anti-inflammatory properties to heal the skin but also could provide deep moisture to the skin and save it from environmental damage. Aloe vera could heal blemishes, fight acne, and cleanse dead skin. Its beneficial enzymes have made it one of the best for natural skin care products.
Lavender
It could not only nourish your skin but also help prevent bacteria from penetrating deeply into the pores to cause pimples and flareups. Lavender could be used to treat acne and eczema. Also, its antioxidants and antimicrobial properties could help to fight oxidative harm, which is associated with premature skin aging.
Horsetail
The herb holds astringent properties that could improve your skin firmness. Also, horsetail has a high content of silica that is a part of collagen, which could keep your skin supple and looking young. For anti-aging skin products, Verso Skincare UK has the best choice with a big selection. Also, horsetail could help heal acne and outbreaks.
All in all, herbs have many health benefits for skin, and many skin care products have taken advantage of them.